"A good broth resurrects the dead" - South American proverb
Bone Broth is considered liquid gold by many. Rich in vitamins, minerals and collagen, bone broth is known for its support of Gut & Digestive Health, Joint Mobility, Skin, Hair, Nails and Sleep.
Our Bone Broth Kale Chips bring these benefits with you, wherever you go. We gently dehydrate our chips at a low temperature to lock in flavor and preserve vital digestion-supporting enzymes.
And for our Vegan friends, we craft delicious chips for you too! Our Vegan Kale Chips combine fresh, sprouted, and fermented ingredients to provide a whole spectrum of nutrition on-the-go. 
Shop
HANDCRAFTED IN NORTHERN CALIFORNIA
Organic & Regenerative Mission
Regeneration in every sense of the word, from the soil to the mouth, we connect people with innovative, nourishing food that feeds our customers' every sense.
All of our ingredients are GMO-free and organic which translates directly to our chips' superior taste and dense nutritional content. It is our delight to work with California's leading regenerative and organic farmers, ranchers and wildcrafters whose work honors the complex dynamics of ecosystems and whose mission is to leave the land and its inhabitants better off than when they found it.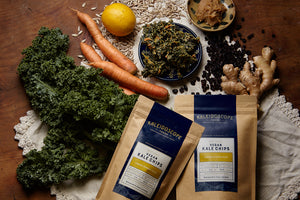 Vegan Kale Chips - Mixed Flavor Case
Sale price Price $ 110.00 Regular price Unit price / per